I haven't done this in a bit, but here's another Jim story:
For some reason, Jim loved to chase squirrels. And it was funny, excpet you had no idea when he was going to do it. You could be walking to class, talking about a test you were about to take or a girl and he'd be listening and talking back. All of a sudden he would just start running after the squirrel that he'd spy. It was unsettling because he would bolt, no warning, no "Oh my God, a squirrel!" He'd just go. He never caught one of them though.
This was a busy weekend, but we had a blast. Friday night I had planned to go to the gym right after work, I was half way there when I got a call from a show that the pharmaceutical people were supposed to go to on Sunday. Apparently, the conference throwers hadn't been paid yet and they wouldn't let my people in until they got $6,000.
I had to turn around and give them a credit card, that I hope had $6,000 left on it. So far, I haven't gotten a phone call about the show, so I am praying that everything is cool. We shall see tomorrow.
The plan for that evening was to meet Aly, Ryan, Keri, Byrnie, Bill, Ellie and Byrnie's parents at the Burren in Somerville. We had a concert to go to that night at the Somerville Theatre. We saw these guys, Danu:
http://www.danu.net/
Before I get to the band and how awesome they were, first things first, besides the Guinesses we polished off, we also ate at the Burren. I've never had food there before, so I order the shepperd's pie. It was so damn good. I want to go back there tomorrow night. Besides my mother's recipe, this was probably the best sherpperd's pie I've ever eaten in my life. Aly got the Guiness stew which wasn't as good.
So then we went to the Somerville Theatre which is in Davis Square. I've never seen a show there before, but I have seen movies. For one thing, the place is in an old vaudeville theater with balconys and old chairs and the whole nine yards. It's such a cool place to watch a movie and watching a music act was even better.
Check this out for more info on the theater:
Somerville Theater stuff
While the venue is condusive to a great show, Danu provided the rest. I wasn't sure if I was going to like them a lot. They are a traditional Irish folk band, and while I like Irish music, I don't love it as much as Keri, Rye, Byrnie and the rest. But, Danu was awesome. They were great, their musicianship is top notch, their singing was harmonious and they just put on a great show.
Listening to that music reminded me of all the great times I had when I was in Ireland in 2001 and 2003 and made me want to go back again some time to sit in a pub, sip a pint and just listen to some quality music. Aly liked them a lot too. As she said, "I wouldn't run out and buy their CD, but the live music really moved me. It was just awesome."
After that we went to Sauce, which is about a block away. It's sort of a trendy bar in Davis Square, but we had a good time, drinking brews, shooting the shit and having a bunch of laughs. It's definitely what I needed after such an exausting week.
This little bastard was with us: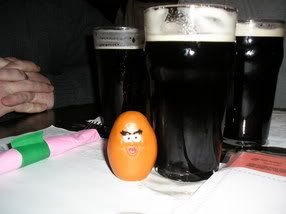 His name is McNugget Buddy and he is sort of the official mascot of the Foley family. Ever since Ryan and Keri were kids, they would sneak him into each other's suitcases so that the other would find him after they open their case. Over on SoSH, Ryan did a whole story about him. Funny shit. Really good stuff.
Aly and I left around midnight, but we should've stayed. Drew ended up meeting the rest of the gang afterwards and they went to the Burren where they ran into Danu. Rye said they spent the rest of the night drinking and swapping stories.
Saturday was just as busy as Friday. We woke up early to take Aly home, she had a hair appointment and I was planning on using the time to either read or write in my Blog. I walked into Aly's place and had to do an about-face. It fucking reeked. Her roommate and her boyfriend decided to spend the previous night drinking their faces off and smoking like chimneys. Add that to the cat puke and the never-cleaned litter box and the stench was enough to chase me out of there.
I ended up going to Dunkin Donuts and spent most of the time just reading. After that, I walked over and got Aly and we took a walk up Harvard Ave. to the Upper Crust. They have phenomenal pizza there, and since we were starving we got a large prosciutto pie. After we ate, we walked around for a bit, looking around for stuff that we may need for our apartment (which we got, BTW--we just have to return the lease tomorrow.)
After that we got some wine and a block of cheese, tonight was going to be our Valentine's Day dinner, even though Valentine's Day isn't until tomorrow. We had reservations at this restaurant for 9:00:
The Federalist Restaurant
You may notice that this is actually a web site for XV Beacon Hotel. You are very perceptive. This is because there is no Federalist web site. Don't ask me why, they just don't have one. In any event, this is one of the fanciest places in town.
Before we ate, we had some cheese and crackers and a bottle of wine, Il Bastardido. Very good (not that I know any better). The mood was very relaxed, we had some Sinatra in the background (we found our wedding song, "The Way You Look Tonight") and then it was off to the Federalist.
We sat down and the decor was a combintion of funky with a lot of old Boston thrown in, mostly through busts of the founding fathers all around. I had the Caesar salad and Aly had the lobster bisque. Then the chef sent out a mussel and potatoe dish, free of charge, which was pretty cool. For an entree I had the sirloin steak, with fries, after I pussied out of the venison. Aly had the rack of lamb. For dessert we had a chocolate/peanut butter tort. We also had a nice bottle of wine.
The food was great, some of the best I've had in a while. The one thing was that the portions were a little small, especially for the money ... but thanks to the Pats, it wasn't too expensive. The air of the restaurant was very old school and stiff. Aly looked around and noticed that we were the only people relaxed, laughing and having a good time.
I enjoyed going there, I like trying new restaurants whenever I can, but it's not really an "us" sort of place. It was a very good night however, and I'm glad that we went.
Today we went to Amesbury, where my mom took Aly and I out to get supplies for our new place. We went to a discount store and we loaded up, anything we wanted, mom got for us. It was a very generous thing for her to do. We're in a really good position right now.
After that, mom had Nina up and we all (including Jay and Dad) had lasagna, chicken parm, salad and brownies. A great meal to end a great weekend of eating.
BTW, Jason broke up with his girlfriend. Can't say I didn't see that coming, but it still sucks for him.